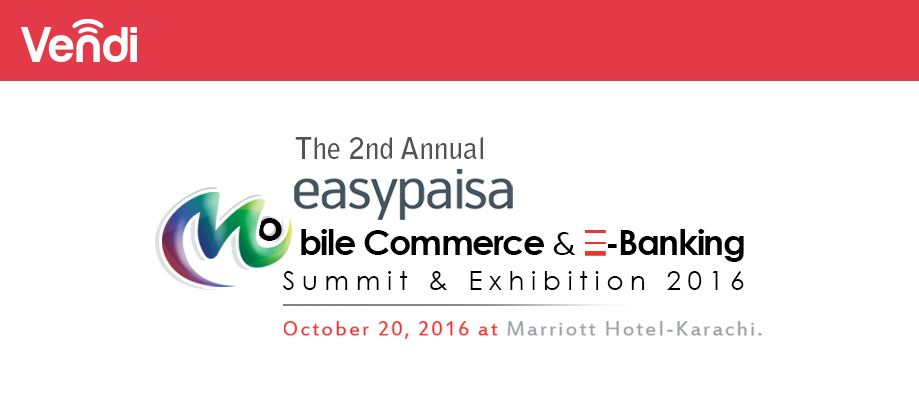 Vendi – Pakistan's first Smart Vending Solutions Company is participating in the 2nd Annual Mobile Commerce & E-Banking Summit & Exhibition 2016 to present an innovative vending machine that lets consumers make on-the-go purchases with a simple tap of their NFC enabled Vendi tags.
Vending technologies are evolving rapidly and new machines are engaging shoppers like never before. Vendi, being the first Pakistani company to manufacture and launch the NFC-supported vending machines in the country, will shed light on the evolution of the mobile payments ecosystem while focusing on the vending machine's features, and how it aims to transform the payment solutions market in the country.
Vendi is excited to introduce its new and exciting features at the event, i.e. Mobile Airtime and Cinema tickets at the Mobile Commerce & E-Banking Summit & Exhibition 2016, which is going to be held on the 20th of October, 2016 at Marriott Hotel in Karachi. Vendi has introduced an incredible payment mechanism to recharge mobile balance on any network and purchase cinema movie tickets via the machine. Participants and guests at the Exhibition will be able to see how Vendi works, get NFC-enabled tags, and purchase snacks and recharge mobile balance from the machine.
The Mobile Commerce and E-Banking Summit & Exhibition 2016 will address the key challenges faced by major banks and retailers in achieving adoption and driving engagement through mobile apps and solutions in commerce and banking sectors. It will be hosting 15 industry experts and over 200 senior level decision makers from all over the country and involving them in panel discussions, speaker sessions, and one to one meeting at exhibition stalls.